IU School of Medicine processes mistreatment cases in a systematic manner to help resolve or otherwise address the case. When a person completes the Mistreatment Incident Report Form, here is what happens.
Step 1: ALERT.
When a report is submitted through the IU School of Medicine Mistreatment Incident Report Form, appropriate institutional authorities are automatically alerted. Depending on the nature of the concern, this may include (but is not limited to) authorities from the Office of Medical Student Education, Office of Graduate Medical Education, Office of Faculty Affairs and Professional Development, Office of the Ombuds, and/or the IUPUI Office of Equal Opportunity.
Step 2: ASSESS.
Those who have been alerted confer and coordinate an assessment of the situation following a structured protocol.
Step 3: RESPOND.
Responses follow one of two main pathways:
If no violation of the Teacher-Learner Conduct Policy or Honor Code occurred, coaching and feedback will be offered to the complainant and respondent, when possible.
If a reasonable level of confidence exists that an individual has violated the Teacher-Learner Conduct Policy and behaved inconsistently with the Honor Code, a Graduated Response to Mistreatment begins.
Graduated Response to Student Mistreatment
The primary goal of the IU School of Medicine Graduated Response to Student Mistreatment1 is to ensure a systematic approach to intervening in incidents of mistreatment in order to maintain a learning environment consistent with the School's core values. The main emphasis is to assist educators with improving their teaching skills and ability to foster such an environment. It is anticipated that few cases will require level four disciplinary action, and such action will be taken only after multiple opportunities for improvement are provided, except in rare cases of egregious incidents.
[su_lightbox type="image" src="http://res.cloudinary.com/iu-school-of-medicine-mse/image/upload/v1502281872/IUSM-LearningEnvironment-Graphic-GraduatedResponse-StudentMistreatment_xqj79a.jpg" class=""]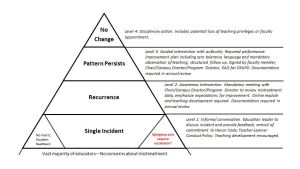 [/su_lightbox]
*Examples of egregious acts include but are not limited to physical harm; unwanted sexual advances and/or request(s) to exchange sexual favors for grades or other rewards; discrimination based on gender, race/ethnicity, sexual orientation, religion.
---
References
1. Graduated Response to Student Mistreatment adapted from Hickson GB, Pichert JW, Webb LE, Gabbe SG. Acad Med 2007; 82:1040-48.
Forms